Quick Camps understands the difficulties understands the difficulties that arise in remote areas of Australia regarding suitable accommodation to support staff working away from home for an extended period. Our team has over 30 years experience in remote camp experience and are leaders in their field with specialist knowledge and have developed state of the art accommodation that is durable, reliable and secure.
At the forefront of our company is sustainability and environmentally friendly design. We recently delivered mobile accommodation units to an Expandable drill camp in Western Australia. These exploration caravans are unique in terms of the facilities it provides, mobile air-conditioned units with separate toilet/shower/laundry rooms to support staff and sub-contractors. All bed linen, towels, bath mats, shower curtains, kitchen utensils, crockery, and cutlery are provided to make set up easier.
Quick Camps provided a modular 7.0m x 2.4m platform for outdoor eating area between kitchen and sleeper including shade sails for modular platform area and to add that extra touch a gas BBQ and outdoor furniture settings to make staff feel a little bit more at home.
Providing a turn-key camp accommodation solution is what we are all about! We designed and constructed an industrial kitchen equipped to support catering operations for our client's staff and sub-contractors. The kitchen fit out included a commercial oven and stove top, commercial stainless-steel benchtops and double sink, commercial dish washer (under bench), 650lt Upright Fridge capacity, 320lt Chest Freezer capacity, industrial under bench storage and overhead storage and shelving.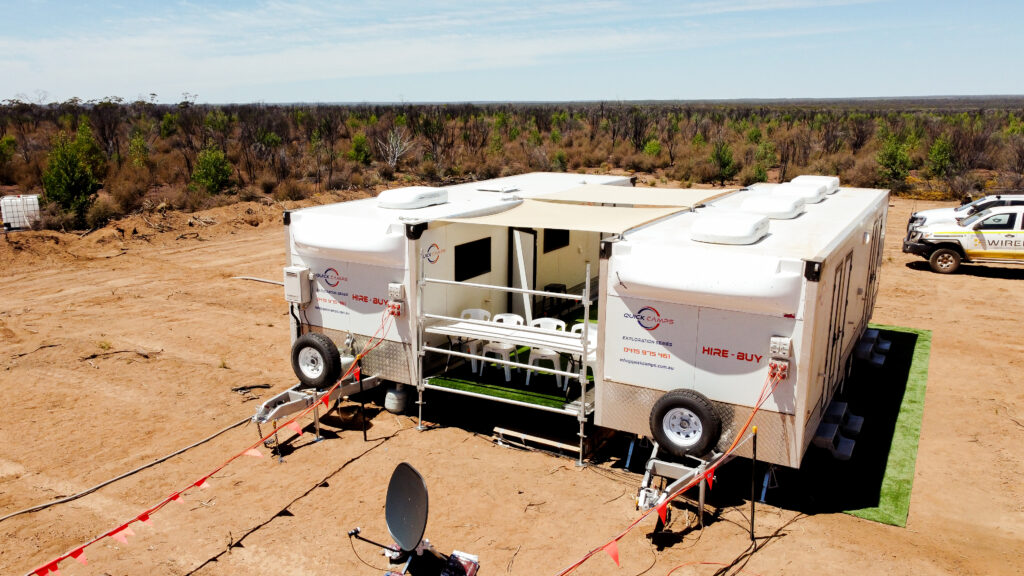 Of further value is the reliability of our workmanship, in-house camp design and custom manufacturing division developed by drilling and exploration professionals. We provide follow-up services for maintenance and upkeep, which will continue to deliver trust in our brand and significant cost savings to our clients.