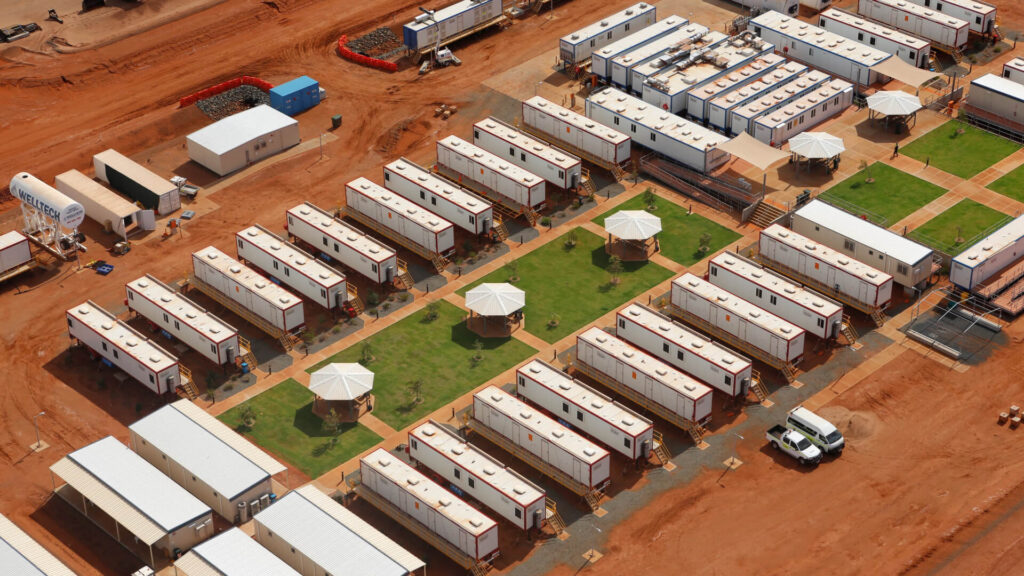 Our custom-built Mining Camp Accomodation units will cater to the practical side of your operations and the wellbeing of your team! We understand the importance of staff retention and will provide a modern personal space for your personnel to unwind at the end of their shift and feel closer to home.
With 30 years of remote camping experience we specialise in providing turnkey portable mining camp accommodation hire cater for 8 to 32 person camps throughout Australia.
Quick Camps specializes in the design, manufacture, and assembly of camps and remote accommodation for mining and construction companies throughout Australia. Our goal is to offer the technical and economic solution that best suits the specific needs of each client's project.
Based on our clients project scope, we use different mining camp accomodation unit designs depending on the requirements of each project, the programmed lifetime of the camp, temporary or permanent nature, type of environment, climatic conditions, or land on which it will be installed.
We offer "turnkey" portable mining accomodation hire that can include the execution of all the necessary kitchen facilities and auxiliary works, as well as the supply of furniture and equipment. Quick Camps understand the logistics of remote locations and services available. We have developed photovoltaic solar energy generation systems that allow the camp to operate autonomously without connection to the power grid.
Services we can provide mining camps include:
– Engineering and project management: Our dedicated in house team of qualified engineers and project managers will design, plan and manage all aspects of your project scope to exceed your expectations.
– In-house manufacturing – We have our own manufacturing workshop that allows us to have a large production capacity with the most competitive costs in the market.
– On-site installation – Our mobile accommodation modular units are a plug and play system so you do not require any electricians, plumbers, carpenters, cranes, semi-trailers or earth movers. Our off-road trailer mobile accomodation camps are quick to relocate between project site locations and easy to install, furthermore reducing costs significantly.
– Turnkey – We offer a complete service that includes installation of our modular camp unites, furniture and equipment, air conditioning, kitchen facilities, outdoor decking, fencing, and power generation systems.
Furthermore our small footprint of mining accomodation camps do not require any site clearing or digging and ar a perfect solution for environmentally sensitive areas.
Looking for a trusted mining camp accomodation solution provider contact us today for a no obligation quote – sales@quickcamps.com.au